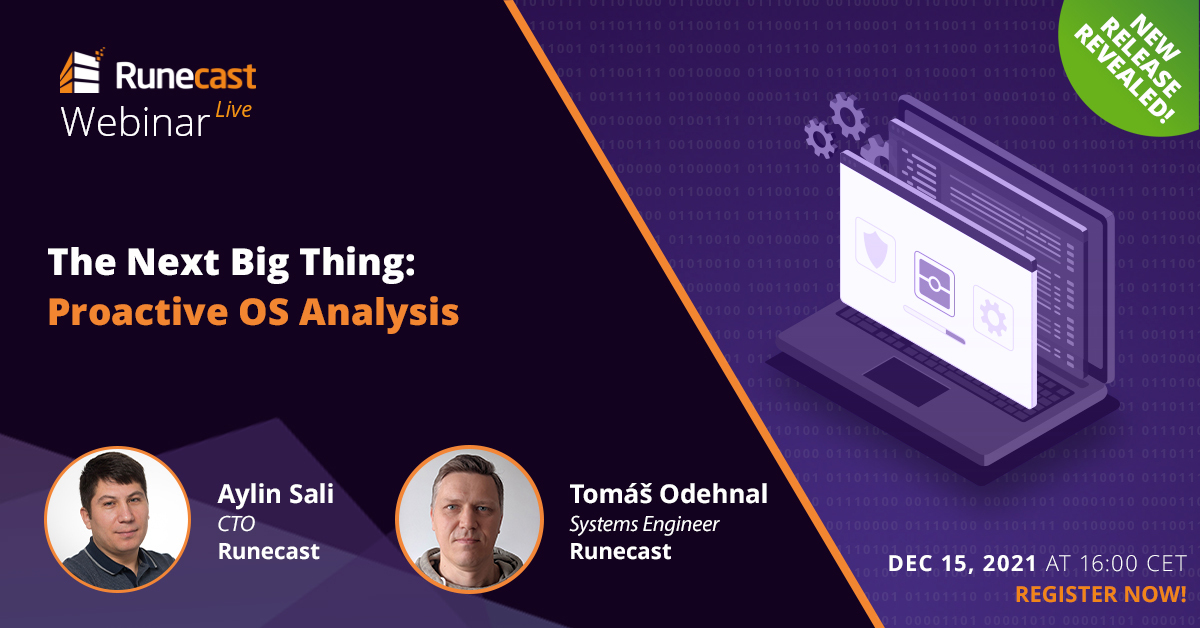 Here's what you'll learn
✔ What is Runecast's next big feature?
New proactive analysis of operating systems adds one more layer to Runecast's proactive monitoring, management, and compliance. Get full visibility into the state of your environment.

✔ Runecast coverage of Apache Log4j Java vulnerability
Over the weekend a critical vulnerability in the Apache Log4j Java library (used by thousands of enterprise apps) was disclosed. Our development team worked tirelessly to update the Runecast platform for our clients. Look at how to secure from one of the most critical vulnerabilities with us.

✔ How to have full operational transparency
Troubleshooting usually means reactively putting out fires. With automated, proactive monitoring you see potential fires before they erupt. You're only human, so you need a platform that audits your on-premises virtualization stack or your public cloud resources. See the state of your whole environment with a simple scan.

✔ How Runecast helps with Cloud Security Posture Management (CSPM)
Runecast implements continuous, automated security and compliance processes, primarily to secure the infrastructure where workloads are deployed. CSPM helps prevent software configuration vulnerabilities and compliance risks.

✔ Runecast as a Cloud Workload Protection Platform (CWPP)
Explore Runecast as a workload-centric security solution that targets the unique protection requirements of workloads in modern enterprise environments.
Wednesday, December 15 at 16:00 CET (10 am EST)